Background

He was born in Vienna, Austria.
He began playing drums at age 7.
He acquired extensive education and experience in electronics and audio engineering, percussion performance and East Coast Swing Dance.
Due to his extraordinary musical talent he got a special permit to attend the University of Music and Performing Arts in Vienna, Austria, still as a teenager (!) where he got instructed on drums by famous Professor HOCHRAINER, the former legendary drummer of the Vienna Philharmonic Orchestra.
He studied electrical engineering and graduated as "Ingenieur" (similar to Bachelor of Science) for electronics and information technology.
Skills

Solid drum skills no matter what the style

Specialities include double Shuffle, left-hand stroke and snare rolling

Expert for Rockabilly, Western Swing, Hillbilly, 50's Rock'n'Roll & Rhythm'n'Blues as well as for classical music (playing kettledrum and chime), brass and march music

Experienced with special stage effects (pyrotechnics, etc)

Use of washboard, spoons and other unusual percussion instruments

Drumming while standing

Acrobatic skills for choreographed stunts (such as climbing on upright bass with wireless-equipped snare)
Award

As drummer of great merit for the world-famous "

Hoch- und Deutschmeister

" (Traditional military brass orchestra of the Head & Master of the German/Teutonic Order) the German Knight's Order awarded Franz DUNSHIRN the golden "

Deutschmeister Ehrenkreuz 1. Klasse

" (Primary class

Cross of Honour

of the

German Order

) which has got

benediction

by

pope Johannes Paul 2nd

on Sept 9th, 1983 in Vienna, AUSTRIA.

(see lower medal on left portrait picture, enlarged photo of medal on the right side)
Appearances
Danube Island Festival, "Prater" Amusement park festival and several boroughs' state fairs in Vienna, AUSTRIA from 1990 to 2000
Concerts in famous music nightclubs like "PAPAS TAPAS", "ZUGABE", "Indian Dreams Western Saloon", "Metropol" and Stadthalle (TV broadcast) in VIENNA
Tours in Austria, Germany, Hungary, Switzerland, France, USA and Canada
Famous musicians I played with
| | |
| --- | --- |
| Barbara Lane (USA) | Buck OWENS (USA) |
| Wanda Jackson (USA) | Dale Watson (USA) |
| Sleepy LaBeef (USA) | Dawn Maracle (USA) |
| Big Jay McNeely (USA) | Big MO (USA) |
| Joe "Ducktail" Clay (USA) | Chadd Thomas (USA) |
| Tav Falco (USA) | Alvin Crow (USA) |
| Brandon Giles (USA) | Legendary Daltons (A) |
| Rosie Flores (USA) | Torpedos (A) |
| Wee Willi Harris (GB) | Ida Red (A) |
| Freddie Fingers Lee (GB | Atomic-Boogie (A) |
| Peter Kraus (GER) | Orig. Hoch- & Deutschmeister (A) |
| Jazz Gitty (A) | Austrian Army Band (A) |
| Andy Lee Lang (A) | Michael Pewny (A) |
| Charly Hloch (A) | Little Frankie & the Townbeats A) |
| Erik Trauner (A) | Prof. Horst Winter (A) |
| The Salty Dogs (A) | Prof. Julius Hermann (A) |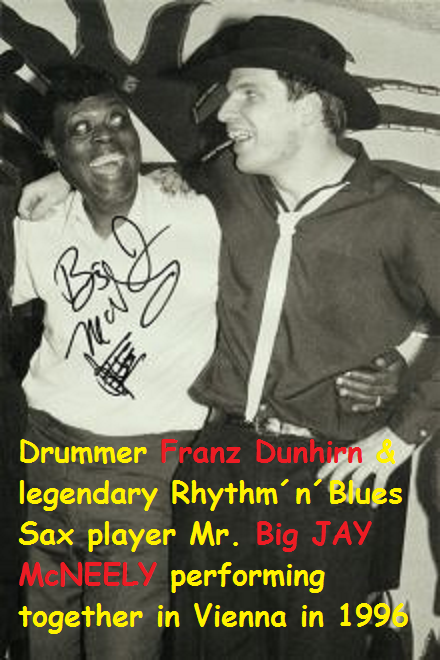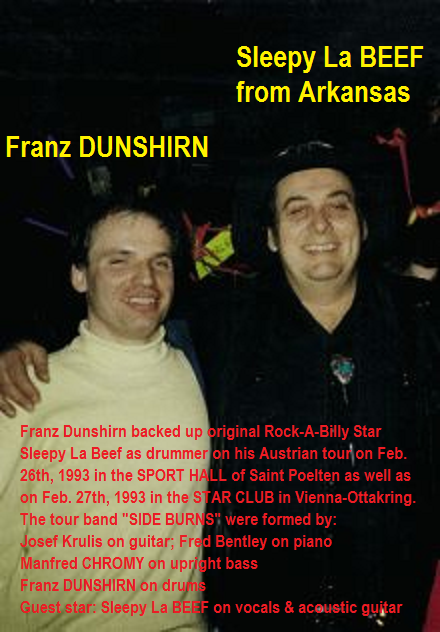 Soundfiles (mp3)
Mean Mean Man (The Salty Dogs & Franz on drums feat. Wanda Jackson)
Rock┤n┤Roll Honey (The Salty Dogs & Franz on drums feat. Wanda Jackson)
You Gotta Have A Ducktail (The Hounddogs & Franz on drums)
Rock Bottom (Sixty Minute Men & Franz on drums)
Video file (wmv)
TV-Show "Seitenblicke" by ORF (Austrian Broadcast) in May 1993 (The Salty Dogs & Franz on drums feat. US-Star Wanda Jackson filmed by "Seitenblicke" while doing studio recording in Vienna)
YOU TUBE Video of a live performance of "50 sDiner Band" in October 2014 in the legendary music pub "Papas Tapas" in Vienna, Austria in October 2014 (www.youtube.com/v=ILGF-U8mHsE)
Studio Experience
"Kiss Me" (vinyl) with Old Fashion, 1985, Vienna, on G.M.D.K. Records
"Senseless" (vinyl) with The Hound Dogs, 1987, Vienna, on HK Records
"Under The Double Eagle" (vinyl) with Hoch- und Deutschmeister-Kapelle (traditional military orchestra of the Head & Master of the Teutonic Order), 1985, Vienna, Teldec Records
"Hot Blended"
and
"Homeland Waltz"
(CD) with Wanda Jackson and the
Salty Dogs
, and Hayden Thompson, 1994/1995, Vienna, Urmel Records
"Teddy Boy" with the Legendary Daltons, 2001, Vienna
"Forties Rhythm" with Sixty Minute Men, 2008, St.Poelten, Austria
| | | |
| --- | --- | --- |
| | | |
| Vinyl-LP on TELDEC in 1984 | CD "Hot Blended" on URMEL Records UR005 in 1993 | Vinyl-Single on HK records HK09588 |
In the USA
1985

Spent a month in Florida performing with a rock'n'roll band in Roses and Gardens Western Saloon, Orlando

1990

Went to Vancouver, BC, Canada, doing sessions with local musicians

2002

Visited NEW ORLEANS, MEMPHIS, and NASHVILLE and got acquainted with area musicians. Played with

Brandon Giles

,

The Camaros

and Humphrey Greg (Ex-Gene Vincent bass player). My unofficial Nashville Ambassador was fantastic guitar player

Bart Weilburg.

Guest appearance as spoon drummer and very first Austrian together with

Rosie Flores

in the Legendary

Country Music Hall of Fame

in Nashville.

2003

3 month's stay in NASHVILLE playing with the musicians above in Jim & Layla's Bluegrass Inn on Broadway as well as with Randy Hennings and Brazilbilly
Studio Recordings of Super-Star Wanda JACKSON from Oklahoma in Vienna on May 3 rd , 1993 backed up by Franz DUNSHIRN and The Salty Dogs

From left to the right : Robert SHUMY, Franz DUNSHIRN, F.G. HACKER, Wanda JACKSON, Fred BENTLEY, Manfred CHROMY
2004

3 month´s stay in California, Wedding in LAS VEGAS, NV, Emigration to the United States of America, becoming citizen of Salt Lake City in UTAH, award of American Social Security Number and Work Authorization

2005 - 2006

Move to TEXAS, becoming citizen of AUSTIN , the world´ s music capital , and Electrical Engineer with TEXAS State Board Certification and back up-musician for local Blues- and Country music stars like

Alvin CROW

(

www.alvincrow.com

),

Dale WATSON

(

www.dalewatson.com

),

Chad THOMAS

and the

CRAZY KINGS

, and several Blues Performers like

BIG MO

from Chicago, IL. Permanent drummer for Blues artist

Ray CASHMAN

(

www.raycashman.com

) . Touring through Texas, Nevada and Arizona with Psychobilly Band

"The Hotrod Hillbillies"

(

www.hotrodhillbillies.com

). Legendary live-performances in the famous Western saloon

"The Broken Spoke"

(

www.brokenspokeaustintx.com

),

Giny´s Little Longhorn Saloon

and

The Continental Club

(

www.continentalclub.com

).

2007
| | |
| --- | --- |
| | Franz as drummer for SIXTY MINUTE MEN on the MOJO BLUES PARADE in the County Council of Josefstadt, Vienna, on May 31th, 2008 |
| | |
| --- | --- |
| | Franz as "Devil┤s Fiddler" performing on the Viennese WIES┤N October Festival in Vienna, Prater amusement park, in September 2017 |
| | |
| --- | --- |
| | Franz as radio-equipped acrobatic show snare drummer giving female sax-player a piggyback while he┤s strolling through the audience in PAPAS TAPAS, Vienna, on Oct 4th, 2013 |
| | |
| --- | --- |
| | Franz as show drummer for Austrian party band "FLOVILLE" at the STAMMERSDORFER WINE DAYS in Vienna, Austria, on Aug 27th, 2017 with water bird pipe and flying seagull |
| | |
| --- | --- |
| | Franz and Super Star Patrizio Buanne after a common performance in the ARENA in Vienna, 2016 vocalist |
TOUR DATES